Century Theatre Events
The Century Theatre, built in 1977 as a concert chamber to commemorate Napier's first century as a city, is the setting for the museum's performing arts, film and talks programme. The Theatre bar opens one hour before every show and sells a range of confectionary, alcohol and non-alcohol beverages. Click here for information on how to find us, parking and disability access.
Cycle Chic Film Tour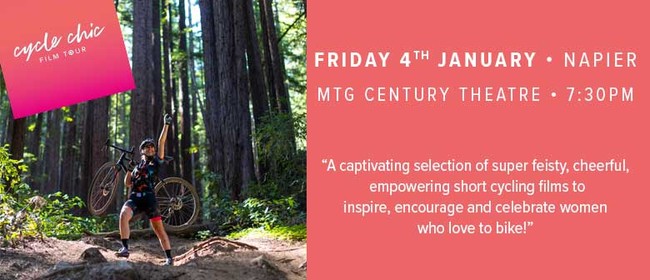 Riding into the Bay and super proud to be in the exciting Hawkes Bay Summer Cycling Carnival programme!!!

Our super feisty, cheerful, and empowering collection has eleven short films here to make an impact.

Catering for a strong demand by female bike riders to have their stories told on the big screen these short cycling films have been selected to inspire, encourage and celebrate women who love to bike.

The cinematic adventure includes a magical journey of colour and creativity by an artistic mountain biker in Canada; a New Zealander who believes in the power of bikes, and how a bicycle can be so much more than just a set of wheels; the heart-warming Mama Agatha, about a 'community mother' who runs a bicycle training program for migrant and refugee women in Amsterdam; an enthralling film from big-city America about two 'bad-ass BMXers' (in their own words); and Moksha, a moving documentary that highlights three Nepali women who have dedicated themselves to spreading the joy of mountain biking to women across the Himalayas.

Showcasing women who push boundaries, are courageous, and are an advocate for change; all through the power of the humble bike. It's the 'thinking cyclists' film collection that all genders and all ages will connect and enjoy.

Everyone should see this - all welcome!

Ticket Bookings are available from the Big Bike Film Night website (www.bigbikefilmnight.nz) or from the MTG Hawke's Bay reception. There will also be door sales on the night at the MTG Century Theatre.
When
Friday 4 January, 7:30pm to 9:15pm
Cost
Where
MTG Century Theatre, Napier, Hawke's Bay / Gisborne
9 Herschell Street, Napier, Hawke's Bay / Gisborne