Century Theatre Events
The Century Theatre, built in 1977 as a concert chamber to commemorate Napier's first century as a city, is the setting for the museum's performing arts, film and talks programme. The Theatre bar opens one hour before every show and sells a range of confectionary, alcohol and non-alcohol beverages. Click here for information on how to find us, parking and disability access.
HBAF 2018 - Duck, Death and The Tulip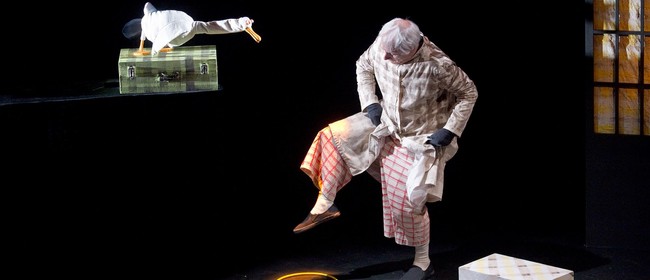 From true heroes of children's theatre, Little Dog Barking (Guji Guji and Paper Shaper), comes a whimsical, heart-warming story about an unlikely friendship between a duck, a character called Death and their journey through time.

Together they drink tea, go swimming, climb a tree, and provide warmth to each other. Duck asks lots of questions, and learns that Death, as a constant companion, is part of life.

Adapted from the acclaimed book by Wolf Erlbruch, Duck, Death and the Tulip uses puppetry, mime and imagination in this beautiful, award-winning performance to explore the 'big questions', showcasing a story of life, mortality and friendship in an elegant, straightforward and thought-provoking way.

A must-see for all ages.

Directed by Nina Nawalowalo, devised by Peter Wilson; design Sue Hill and Nicole Cosgrove; music Gareth Farr; based on the book by Wolf Erlbruch.

Note:
Tickets for all performances at the MTG Century Theatre and Napier Municipal Theatre can also be purchased directly from Ticketek - 0800 842 538, or visit the Napier Municipal Theatre box office, 119 Tennyson Street, Napier.

(Additional charges and credit card fees may apply).
Phone: 0800 842 538
When
Saturday 27 October, 11:00am to 11:45am
Cost
Where
MTG Century Theatre, Napier, Hawke's Bay / Gisborne
9 Herschell Street, Napier, Hawke's Bay / Gisborne