Century Theatre Events
The Century Theatre, built in 1977 as a concert chamber to commemorate Napier's first century as a city, is the setting for the museum's performing arts, film and talks programme. The Theatre bar opens one hour before every show and sells a range of confectionary, alcohol and non-alcohol beverages. Click here for information on how to find us, parking and disability access.
CMNZ Presents: Piers Lane, Hiroshi Ikematsu & NZSQ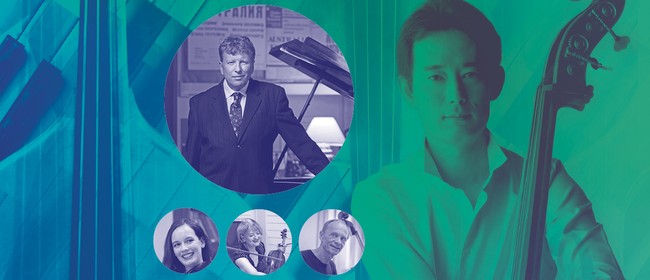 Try googling "the ten most popular chamber music works of all time".

There are lots of lists but you'll find Schubert's "Trout" Quintet is on every one of them and it justly forms the centrepiece of this exquisite exploration of aquatic themes.

Programmed alongside Schubert and Rossini, CMNZ have commissioned Ross Harris to write a meditation on the trout fishing rivers near Turangi. His Orowaru – the rippling sound of water – was inspired, the composer says, by 'the complex harmonic beauty of the rivers'.

Selling out performances at Wigmore Hall and frequently appearing with the Sydney Symphony and London Philharmonic, pianist Piers Lane joins members of the New Zealand String Quartet and audience favourite, Hiroshi Ikematsu. Currently Principal Bassist with the Tokyo Metropolitan Symphony Orchestra, Ikematsu is a virtuoso with a huge personality as we learned from his years in the NZSO.

Here is a truly special season finale that celebrates another year of good music – up close.

*Add this concert to a CMNZ Season Subscription and save chambermusic.co.nz/subscribe.
Phone: 0800 842 538
When
Cost
Where
MTG Century Theatre, Napier, Hawke's Bay / Gisborne
9 Herschell Street, Napier, Hawke's Bay / Gisborne